Our Awards & Nominations
Since starting our business we have been delighted to receive both nominations and be in receipt of Business Awards recognising the hard work and development of The Tall Dog.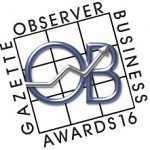 In 2016 we were nominated again for The Observer and Gazette Business Awards 2016
In 2015 we were nominated for the  Start up Business and Small Business in the 2015 Observer and Gazette Business Awards, with the added excitement that we have been short listed too for the Start Up Business Category!
We were very pleased to get into the top 5 from a few hundred but would like to congratulate James Parsons at Office Flex who won the award.  Well done James.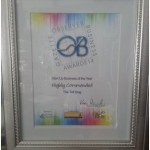 In 2014 we were really pleased that we were Runner Up and Highly Commended for The Start-Up Business category in The Observer and Gazette Business Awards 2014.
The winner of the Start-up category Award will have shown determination, drive and passion to start and grow a successful business during tough financial times. The winner will have also demonstrated their vision to succeed and overcome many obstacles along the way.
Sussex Women of The Year Award 2014
We are also excited that we were nominated for three more awards:
Woman in Community, Charity or Voluntary Sector
Woman to Watch
Business Woman
We were shortlisted in the Woman to Watch and Business Woman categories.